After a long, hard-fought campaign, we had an amazing preliminary turnout. We finished third place and did not move on, but the tone was set.
This forum will feature the three candidates running for mayor: Scott Galvin, Mike Concannon and Omar Mohuddin.
Omar Mohuddin would be the youngest mayor in Massachusetts at the age of 19. Katelyn Flint from Channel10 News Interviews Omar about his historic run.
Radio Boston sat down with Omar Mohuddin, a 19-year-old Northeastern University student who's running for mayor in the city of Woburn;
Omar Mohuddin recently had his nomination papers certified and announced he will hold a campaign launch event next month at WMHS.
In Woburn, 19-year-old Omar Mohuddin is looking to become the state's youngest mayor ever.
Omar Mohuddin, a 19-year-old born and raised in Woburn, is running a platform of youthful energy and change.
Omar Mohuddin is in constant motion.
Omar Mohuddin is running to be mayor of Woburn.
Omar Mohuddin poses for a picture. Mohuddin has gained a lot of local attention after announcing his plans to run for mayor of Woburn, his hometown.
Woburn's upcoming mayoral race will have one candidate who gives new meaning to the term "youth vote."
Omar joins Samantha Stone on Today In Woburn to discuss his message and who he is.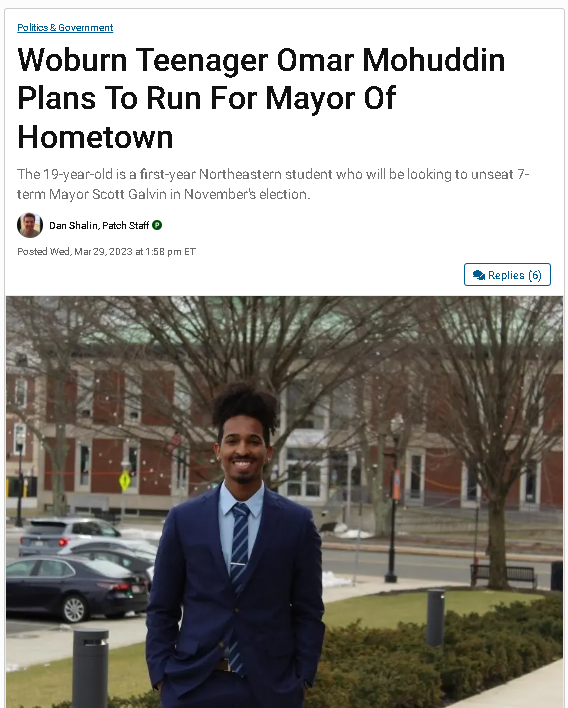 The 19-year-old is a first-year Northeastern student who will be looking to unseat 7-term Mayor Scott Galvin in November's election.
Mohuddin sees an opportunity for a new day - where the voice of the youth population is clearly heard in Woburn.